Welcome to STILETTO Entertainment's Cruise Ship Entertainment homepage! Please use the links located to the left to navigate the site. First time visitors should be sure to check out the General Information page. Anyone interested in audition dates and casting opportunites should sign up for our e-mail list at the bottom of this page so we can keep you up to date on everything that is going on! And check out the latest STILETTO news below!
Check out our video!
Our new concept in shipboard entertainment aboard Holland America Line is the new "Showroom At Sea". The centerpiece of this new entertainment lineup is a musical repertory company, showcasing singers from two distinct vocal styles, one operetta/legitimate musical theatre and the other Broadway/contemporary pop, as well as dancers and a musical comedy actor. Various combinations of performers appear each night… from two classical singers backed by a 14-piece orchestra, to a four man pop/rock doo-wop group on a street corner, to a singing host and his guests in a fictitious Vegas nightclub, to an ensemble for the ultimate Broadway tribute. Please check out the "Showroom At Sea" page audition for requirements.
The Inside Scoop – October Office Chatter!
OFFICE CHATTER:
Casting Quote of the month: "Learn from yesterday, Live for today, Hope for tomorrow."

HAPPY HALLOWEEN from the Casting Office!

Hi Friends! Actually, things are pretty quiet around here at this time. Currently, the new "Showroom At Sea" Rotterdam cast has arrived and are busy in rehearsals! In fact, the two Broadway Contemporary Singers and the two gorgeous Showgirls have already completed one show, "It Takes Two." They sound and look incredible! We can't wait to see what else John Charron has in store for this amazing cast!

We want to send our best to the Zuiderdam and Oosterdam casts! They are in the midst of their cast changes and we can't wait to hear how it's going! We are certain both will be hugely successful.

In case you haven't had the chance to check it out yet, we want to remind you all that we have a new addition to our website. The "Showroom at Sea" page describes our new and exciting project. As you are probably aware, this new concept been incorporated on the Veendam and is about to be on the Rotterdam. And, by the end of 2010, it will also be on the Ryndam and Statendam. So, if you have any friends that you think may be ideal for any of those roles, please don't hesitate to contact us or forward them the link!

James and I are in the midst of planning our 2010 Audition Tour. And, we added a few new, festive cities to our wish list! Once all of the dates and venues are secured, we will be posting them on our website. For those of you veterans that will be in those cities, let us know if you'd like to help us out! We'd love to see you!

We just returned from our Vegas "Showroom at Sea" audition and found some fabulous talent and are looking forward to our London and NYC trips this month. Please make sure you stop by and say hello if you are in the 'hood.'

Once again, to our valued veterans, be aware that due to the eight month contracts, coupled with the new show format on the Veendam, Rotterdam, Ryndam and Statendam, back-to-back contracts may be more difficult set up. Of course, we will always do our best to place you where you desire, so please be patient with us!

As always, we ask that our veterans and those of you on our HIRE LIST continue to update us on your availability, interests in ships/itinerary and any changes to your phone numbers and/or email addresses. Please make sure you email Jodie and James instead of replying to this email.

For the latest audition information, stay tuned to our Audition Hotline (310) 957-5757 ext. 412 and our website www.stilettoentertainment.com.

Hope you all have a fabulous Autumn!

Trick or Treat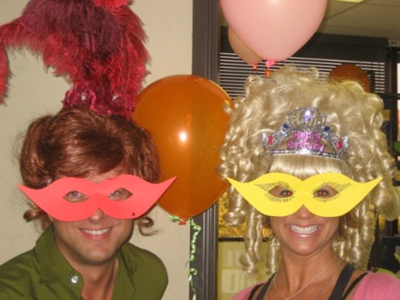 Be the first to receive the latest audition alerts and more!
Subscribe to our email list below!